Get The AW Events Calendar Delivered To You!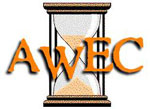 Do you sometimes forget to check the AWEC calendar? Ever wish that someone would have reminded you about all the parties and fun stuff that are going on in AW each week? Well we've got a solution for you!
In conjunction with AWEC, we will be providing a new email newsletter that will be delivered to your email address once every 1- 2 weeks. To SIGN UP for this great new community tool, please follow these SUBSCRIPTION steps.
Send an email to imailsrv@activeworlds.com
Add the following text to the BODY of the email:
subscribe awevents your name (please make sure to include your name)