BotFair 2000
Courtesy of Myrth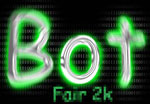 Do you program bots? Would you like a place to get spotted, and possibly earn a name for yourself? Well you are in luck! The First Annual BotFair is coming up. At the BotFair you'll be able to setup a booth and demonstrate your bots, link to your webpages, and give general info on your bot or organisation!
Starting Monday, September 4th, 2000 bot makers will be able to move into their official AWBot BotFair booths! And on Saturday, September 16th, 2000 the BotFair will begin and the world will be opened to the public.
If you wish to join the fair fill out the signup form (http://awcommunity.org/awbot/signup.htm), and if you qualify*, we will get back to you on which booth you'll be moving into!
For more general info, check out http://awcommunity.org/awbot/ today!
*Please note to qualify your bots must be valid, and programmed in a valid programming language. Bots made in HamBot/XelaGot/Preston maybe accepted if they are original ideas.