Active Worlds Loses a Treasured Member of the Community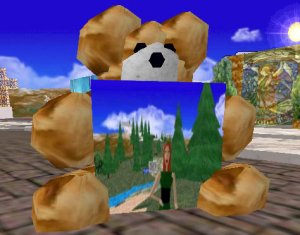 On Wednesday, May 19, 2004 the Active Worlds family mourned the loss of Daphne, who passed away from complications due to injury from an accident. Daphne's committment to Active Worlds and it's community was undeniable. Involved in one way or another with practically every single Active Worlds community group ever in existence, her absence will be felt by many in the community for some time to come.
"I want to say a few words in appreciation of Daphne Coon for the AW community and her family to hear. I have known Daphne since at least 1998 when she became active in the Contact Consortium projects including the annual AVATARS cyber-conference. In fact Daphne helped produce AVATARS in AW for a couple of years. Her positive energy and cheerful loving spirit were always there to support people and allowed us to carry out these important events. Knowing how much she liked teddy bears, Galen and I sent her a "thank you bear" in 2000. We were both touched to see a bear in Daphne's memorial area in Alphaworld and I am attaching a screen shot of that for you here today.
Daphne was also a key person in the Moon project in helping us organize the now-famous "walk on the moon with Apollo Astronaut Russel Schweickart" on July 20, 1999. She took the best screen shots of this and many of our other events. Just this year Daphne worked selflessly to get the Moon world back online as it was featured in a book from MIT Press.
Just a day before Daphne passed on, I went into AW looking for her, as she was my main person to telegram with in AW. When she wasn't there I was sad. I had no idea she was fighting for her life. Daphne, you were and will always be in AW with the people you love and in our hearts.
Our deepest sympathies go out to her community of family and friends.
Thanks Daph for everything!"
Bruce (Digigardener) and Galen (Auntie Galen)
Perhaps one of her last telegrams to me (Mountain Myst) best exemplifies her committment towards the Active Worlds citizens:
Telegram from Daphne, sent Fri May 14, 2004 2:17 PM: As to anything you guys can do...... Well you guys already do it... Here I am pooping out on you and you want to know what you can do to help Me??? LOL.... Take care of our cits the best you can and you'll be doing for me too.. :o)
There is a memorial site for Daphne in AlphaWorld at 8181S 1108E. Our deepest sympathies to her family and friends.