AlphaWorld Historical Society Tours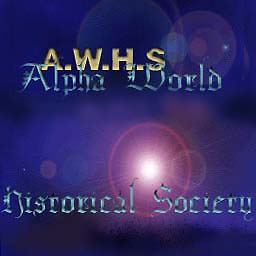 The AlphaWorld Historical Society was established in 1998 by active community members, with the goal of preserving the history of AlphaWorld and it's origins - specifically focusing on the 1995-1996 era - when AlphaWorld was still the only virtual world in cyberspace where one could stake one's claim and build homes, castles, islands, etc.
Their projects including documenting and archiving all great historical builds in AlphaWorld - a treasure trove of coordinates which they dig into each month to give us the historical site of the month for the newsletter - and from which they draw the sites for the monthly AWHS tours.
This month's tour includes the grand opening of the AWHS Tour exhibit room, located in the AWHS Museum itself - and a few surprises! So join in the fun, and find out more about the past!
When: 7pm vrt May 21st
Where: Meet in AWCC at Ground Zero.
What: The AWHS Museum new additions!
Who: Anyone incuding tourists & citizens!
Contest: I Spy
Prize: One Year Citizenship to the winner!!!
To find out more about the AWHS or to volunteer, please see their web site at http://www.awcommunity.org/awhs or visit them in the AWCC world.