2000 AW Community Reunions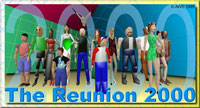 Pre-Reunion Party in Reunion World!!!
Courtesy of Belfalest and Daphne
Sunday May 7th -- 9pm til 11pm VRT...
Come get answers to questions about the upcoming Reunion in Orlando!!!
Come meet fellow reunion go-ers and others that are thinking about going!!!
Come play Travel Trivia, win a prize (*G*) and listen to music from DJParty!!!
Come see some pictures taken at the last big Reunion!!!
($5.00 to the first person that can make shy Belfalest blush!!!)
SEE YOU THERE!!!
For details on the Orlando Reunion, please visit the web site at http://www.thereunion.net
San Francisco Active Worlds Reunion
Courtesy of CableCar Gal
When: August 10th-13th
Where: Clarion Hotel
Come and have some fun in the California Sun!.. Come and meet your Active Worlds Gk's and friends.
Find out more at the San Francisco Reunion's web site
Hope to meet all of you.. It's going to be a good time!