A!!CT's Winter Wonderland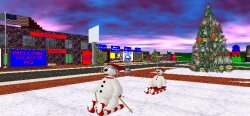 Courtesy of MrBruce
A!!CT world's (formerly A1CT) Winter Wonderland is now open and ready for visitors.
A!!CT is an open build world with a rented object path hosted by Heartfall.com. The path has over 6000 realistic looking objects that my builders are very pleased with.
At the GZ area is a convenient teleport that wisks you away to Winter Wonderland. It is decorated with animation, lights, buildings, Christmas midis and is built with over 500 plus objects!
Anyone can visit A!!CT's Christmas Wonderland, and A!!CT is running a contest for the most creative Christmas decorated builds. No need to enter the contest, just find an open spot and build! All builds found to be Christmas related will be judged on creativity on Monday, December 31st 2001. 3 prizes will be giving out for 1st place, 2nd place and 3rd place. The winners will receive a one year extension added to their citizen account courtesy of A!!CT World! Sorry because Tourists are hard to track they have to be excluded from this contest, but are free to build just the same.
Please visit A!!CT's Christmas Wonderland any time you can, as I said, to get there, just enter A!!CT at GZ and a teleport is located there to take you to Christmas Wonderland.