TIC-TAC-DOH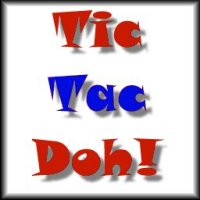 Courtesy of AlphaBit Phalpha and IHNK
The GameShow Network is proud to present... TIC-TAC-DOH!!! To kick off the opening day of The GameShow Network's new home in A!'!A, a game of tic tac doh will be played.
The GameShow Network brings popular gameshows from tv into the 3d worlds of AW. Last round the AWeakest link went great! So we are going to do it again. But not the Aweakest link this time. This time we are bringing a gameshow similar to Hollywood Squares into the Virtual world.
On December 8th 5pm vrt (17vrt) we will celebrate the grand re-opening of A!'!A version 39 and the GameShow Network, by playing Tic Tac Doh. A panel of AW celebrities including Sophia Deer o, Alphabit Phalpha, King Tex, Casey, OneSummer, Baron Von Shrike, Guri Lady, MEGaRAM, and JRock act as squares in this giant version of tic tac toe. In each round 2 players will be chosen out of the audience by the host, IHNK, to play against each other in a game of tic tac toe. Each player takes turns picking squares, the person in the square then responds to a question the hosts ask. The square then answers. The contestant has a choice of whether to agree or disagree. If right they get the square. Whoever gets three in a row wins the round. Prizes will be awarded!
As an extra the ABN network have agreed to tape our shows for the ABN tv for broadcast. So we hope to see you all at A!'!A December 8th 5pm vrt. Come join us for fun and excitement! Who knows... you might be chosen to play :-)