3rd Annual Christmas Present Hunt in Storage world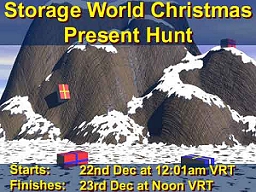 Courtesy of Daphne
Starting at 12:01am VRT Saturday December 22nd
Ending at 12:01pm VRT Sunday December 23rd
That's 36 hours of hunting time!!!
Prizes will include:
Two worlds with hosting...
Two or more citizenships or citizenship extensions
A 20 X 20 corner of Storage world with modular ground (Sorry, but only registered citizens are eligible for this prize.)
Public Speaker in Storage World for a month...
.....and whatever prizes ActiveWorlds Corp. might donate!!!
All are welcome... Come join the fun and win some nice prizes too!!!
Contact persons: Andras@andras.net and Daphne@andras.net
Web page: www.geocities.com/TimesSquare/1974/hunt3.html