Get to Know Your Neighbors!
We think it would be great if everyone got a chance to get to know some of the volunteers in the community and to find out why they love AW so much.
This month we meet Arella o and icco who were recently recognized as GK's of the Month and Brave Hawk who may be better known to some as Peacekeeper 21.
---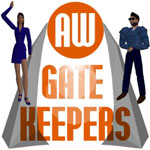 Courtesy of Arella o
I first heard about AW in late September of 2001. I stayed a tourist for 2 months and became a regular domer aka JunoDome known as "Peach." Both tourist and then on November 20th 2001 I became a citizen of ActiveWorlds.still using the name "Peach." Staying within a group of other fellow domers who as each day went by we all became close friends. I grew into watching the GK's while as a tourist and as a citizen then became a close good friend of 1Unknown. I started being a non-offical GK assistant helper with him when he was on duty, who at the time was as well a citizen in AW and a GK. I learned alot about being a GK through him and later on applied to become a offical GK but never got to be one "just yet" due to I still had much to learn about AW and just recently had got my citizenship. So in 2003 I re-applied to the GK organization,and proudly became a part of the GK family. I believe the most thing I enjoy about being a GK is helping others learn about the ActiveWorlds environment and also making new friends.
---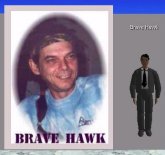 Courtesy of the Peace Keepers
PK Safety Note: If you decide to build someplace cover your land completely before you start. This will lock the space you need and prevent vandalism.
This month the Peackeeper is Brave Hawk, Peacekeeper 21
Brave Hawk discovered AW as a tourist around September of 1997 while searching the web to find out how to build in 3D. It was love at first sight.
"I think the most awesome feeling was when I first came into AW and saw that I was a cartoon of some kind that could walk around and talk. I remember hearing the music and birds. As soon as I downloaded I was hooked."
He became a citizen on January 3, 1998 and PK 3 months later and has been one for over 5 years.
Brave Hawk has hosted other worlds such as A chat (no longer there). He once bought a translator program to be able to talk to others from different countries and for the last 4 years he hosts CitBingo on Fridays.
When asked what he most likes about being a PK he relied," I like helping newbies. I was doing this before I was a PK and still doing it today. Being a PK though gives me the opportunity to help all people in many different ways such as solving property boundaries or harassment and making AW a much more pleasant place for all of us."
Brave hawk has numerous builds in AW all of which are accessible from his teleport station at AW at 360s 380w.
His message to everyone in AW is: "AW is to be enjoyed. If you love to build or want to learn go for it. If you love to chat and meeting others from all over the world introduce yourself and don't be afraid to let others know you and your ideas. Open up and share with all of us. You don't have to give out your phone number or street address to make good friends. Remember, whatever you can think up you can make in one of the many worlds here and, if you do, I want to see it. One more thing, the most important part of AW is YOU, because without you all I doubt if I would come here :)"
Peacekeeper 21 is duty on Tuesdays from 2000 to 2200 VRT and happy to help whenever you see him in AW and he takes your telegrams any time.
---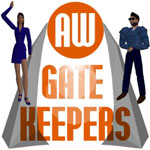 Courtesy of icco
7 years ago I started looking around for a 3d program on the internet that could help make a deer stand, some way special that could lift me from the ground till about 10 feet, so it just came in my mind the word: 3D and that is what it took all the history from there on. What happened with the deer stand design? LOL Well, that year I didnt use a deer stand, instead I used my own truck behind a tree.
I loved AW so much that soon I started to learn how to build things, of course I was trying to learn more and more, so walking around there was this nice person named Lara , so yep she knew some Spanish and she liked dogs, LOL , so why not ask her for help right? And there was Kellee who is a nice girl who saw me one time in AWSchool helping somebody there, in those times ya couldnt help there unless ya was a teacher. I was suppose to be ejected for that,lucky me,maybe somebody saw a dirty little rascal there talking half Spanish half English and trying to do he best he could. Ok anyway I wasnt ejected, and yes I was invited to take a real class to be a teacher in AWSchool. So soon, 3 months later, I was a Spanish AWSchool teacher. Yep ya will say was ya flirting around? Nope sure not! Later in not long time I was named the teacher of the month. It was a surprise to me becouse I did all the time just what I could, maybe that was good, each time that I was looking Lara I was shaking. Later many more friends came around, many of them AWSchool teachers or TL from there, I wont say names but yes I wasn't icco in that time, my user name was " Salum". How far did I get in AWSchool? Well, I was TL before I had to say bye to be teaching.
From there on I spent my time working in my own worlds, using other names and giving a place to tourists where to build. Finally I spent all of my time in AWGate; so one day I was looking there that some who do not speak English and were coming to say things, hiding in their different language. I wanted to keep the place where I could spend the rest of my time to be clean for all the people there, so I said to myself, "I think I can help here if they just let me." So yes, I was hearing some comments about me that I should apply to be a GK, becouse as cit I was already doing some help around. And yes I went to apply to be GK and that is why I am a GK. It's been 7 years in AW.
I have alot of memories, of course many are cupid style, some are sad, others are happy, let's just talk way around about some cupid ones. Well, sooner or later as single person ya will have somebody who ya will like, and yes that hapened to me. It's nice when ya have company around ya and supports ya in what you do. The sad thing is when ya have to say bye to that person. What is the happy memory? mmm in my case been around helping new tourists that each time I see one it puts me to think the 3 days that I was a tourist in all my time in aw, when I started. When I see a tourist I think.. this person may be the one who will do good things for others as AW family. Well friends as many of ya we have something that we like most from AW, in my case is to read a single thanks from who I do help. That gives me the energies to think that I am still good for something on what I am doing.
To end this I would like to say Gracias Lara one more time, because some way hiding there ya did help me one more time, that is you and ya will be Lara all my life, so muchas gracias. I want to say thanks to my TL Usul2 who show me how to be calm and strong in what we need to do, and how to find the way to talk to others with out use the gun at the first noise. Gracias Maggie4Real ya do take care of me in many ways, and gracias to mi amigo PME who by the way doen't lurk too much anymore,smiles. And what a way to say thanks to all my friends who went to North Carolina, I wont say names ya know who ya are.