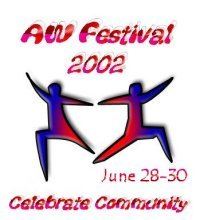 Festival 2002
Sponsored by AWEC
AWEC would like to thank all who made Festival 2002 such a HUGE success. It was a Celebration to remember! The participation in this years Festival was phenomenal.
We would not have been able to do it with out YOU the Community, with your innovative ideas and amazing imaginations. You truly brought meaning to the Festival slogan...."Celebrate Community".
Several surprises were unveiled this Festival. The AWEC Awards, created by Gand, and also had a sneak preview in to the 3.4 beta browser, thanks to Young Shamus.
Festival started with an awesome laser show, and ended with an outstanding fireworks show, which included a corona light show! All for our viewing pleasure!
We hope you all had as much enjoyment participating in festival, as we had organizing it. It was truly moving to see the Community come together and make such a bang up event!! We also hope you all will continue with your events, and try to keep this energy flowing throughout the year. AWEC is going to be sponsoring many weekly and monthly events, so check out our calendar at http://www.awcommunity.org/awec/ for up coming events! Also if you would like to submit your events to the Calendar or have AWEC sponsor you, please email at awec@awcommunity.org. We look forward to Celebrating YOU the Community through out the year.
The winners this year were:
1st Prize- RedSorceress
P20/10 World for 6 months or a 2 month extension to world of your choice
2nd Prize- Rossyboy
P10/5 world for 3 months or a 1 month extension to world of your choice
3rd Prize- *tie* Gamecube & Brock
6 month citizenship extension
4th Prize- Peanuts
Active Worlds T-Shirt
Please Check out the Festival 2002 in Review site for winners, screenshots and more!
Thank you and congratulations to all!
-The staff at AWEC