4th of July Special Events
---
4th of July Bingo Event
Courtesy of Daphne
A special treat for ActiveWorlds citizens!!! 4 days of Bingo this week!!!
There will be a 4th of July Bingo in AWBingoX world for all AW citizens whose picnic got rained-out and for any other AW citizens who would like to come and play!!! Prizes will be from AW Com and maybe even some citizen donated prizes too!!!
Hosted by the crews of AWBingo and CitBingo, the games should provide some good entertainment for anyone stuck at home this Thursday, July 4th, 2002...
The games start at 6pm VRT with Vicky Ann as the first host...
Don't miss this Bingo if the rain didn't miss you!!!
---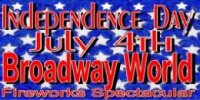 Independence Day July 4th Party
Courtesy of OneSummer
Broadway World Independence Day July 4th Spectacular! Dazzle in the brilliant display of illumination sparklers. Music, dancing, fun and fireworks. Looking foward to seeing everyone on Broadway World July 4th 10pm VRT.