Trick or Treatin' in AW? Well we've got the ghoulish list!

A'tuin2 'Ring of ÇHÄÕ§'
Courtesy of Carre
Runs October 1st through October 31, 2000
Public Build/Design a Epitaph in Memory of...? and plant with help of GraveDigger Bot/Contests
October 28th at 3:00 pm vrt
Head Hunting Contest: Search dark A'tuin's mirror site in A'tuin2 for as many heads you can find. Heads not eggs!
October 28th, 9:00 pm vrt
ÇHÄÕ§ party & DJ Party's call in Radio Talk Show
October 31st at 9:00 pm vrt
Prize Presentations for Contests
ÇHÄÕ§ party & DJ Party's call in Radio Talk Show
Contests to be announced...
Activeworlds, Inc. - Three Prizes!
p-20 with 5 users for one year
1 year citizenship
1 @my.activeworlds.com email address
For The Glory 'ÇHÄÕ§' Credits:
A'tuin Sisters Carre & Magine, Magsbot, HenrikG, Casay, Daphne, Jessica Phoenix, Young Phalpha, and the 11 pack (killerjoe, Katey and Gary S)
Contact carre@jps.net http://www.jps.net/carre/A'tuin2.htm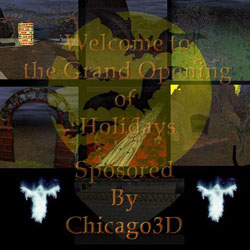 Holidays
Courtesy of Talian and Clee
Grand opening of Holidays world on Oct. 1st, 2000. The opening theme will be Halloween.Come walk the haunted forest, walk the halls of the haunted house (beware, you may end up upside down). wonder along in the cave maze if you dare, or even walk in the cemetary of lost souls, plus many other places to visit.
Sponsored by Chicago3D, your authorized distributor of Active Worlds.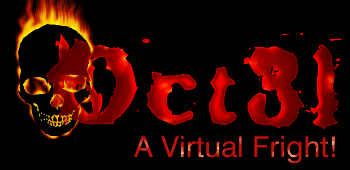 Oct31 and beyond
Courtesy of Cyberwitch
Oct31 Celebrates 5th Year
The Halloween world, Oct31, opens its doors to the public on Oct 20th. Oct31 will be celebrating its 5th year as a virtually terrifying experience and will offer some new builds that will leave you shivering in fright.
This year's builds include Haunted Subway Caverns … board the train to hell and scream all the way or take a spin on the Horror Go Round. We guarantee you have never ridden a carousel this frightening!
Travel through a forest to the waterfalls of blood and then ride the blood and water slide into a pit of fire!
You don't have to worry if you are virtually injured because the Haunted Hospital will be happy to admit you! Mahahaha! Nurse Crachet will be working extra shifts to assure you get your meds on time.
Ghostly guides will be available to show you around. The infamous gravedigger will dig your grave or you can sit around a campfire and listen to ghost stories that will send shivers down your spine!
All prior years builds remain for you to explore so plan to party on Oct31 this year. This world will be open from Oct 20 through Oct 31st for your enjoyment and is a production of Titan's Guild Studio as a gift to the AW community.
More Virtual Haunts This Halloween
Oct31 just wet your appetite for virtual haunts? Are you DYING to visit others? If you are a real fan of Halloween then you may want to take at look at these other places.
The world Bwitched is sponsoring its Halloween horrors again this year. Many of you remember Bwitched from last year and what a great job Cyberwitch and Shilo did to bring you a virtual Halloween and this year they have done it again! This world, which is hosted by Gineric of America fame &amp', GTS Internet Design, will be available to the public on or by Oct 21 so get ready to explore more builds but beware of the ghosties that await you there!
Afantasy sponsored a Halloween Building Contest this year and winners will be notified on Oct 31 and entries will be available to the public to view. There were approximately 30 entries so there will be a lot to explore there as well! Contact Sexy Eyes for teleport information to the various builds.
The world NOVA will have a teleport available at their ground zero that will take you to the Haunted Mansion, cemetery, mortuary and other horrifying builds. Several NOVA citizens and builders created this collective horror build.
Be very afraid and plan a safe but spooky AW Halloween! We hope you have a haunting good time.