Cy Awards
Courtesy of AlphaBit Phalpha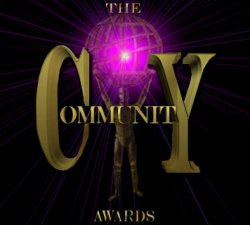 Cy Awards logo created by: dreamer2
Dear Activeworlds Community,
You are cordially invited to attend this years Cy Awards events. There will be a Cy Nominees Ball Saturday August 11th at 9pm vrt in CyAwards world, located in the Cy Ballroom. Please come and meet the Nominees for this round of your Cy Awards. Refreshments will be served and tux's and gowns are furnished:)
Then the following weekend...The Cy Ceremony! August 18th 9pm vrt in the CyAwards world located in the Cy Theatre. Please come and see who wins in this years round of The Cy Awards. We will be welcoming a few (very well known) Special Guest Speakers:) We also have a surprise that evening! And.....there will be a very special award given....but I can't say to who or what for:)
Please be aware that there will be reporters wandering around and interviewing some of you, so you might want to check you makeup ladies...pictures will be taken:)
There are 2 areas built for those that are lagged in crowds. They are East and West of GZ. We will be having bots transfer chat text and video to big screens in those areas. There are some new elements added to the ambiance that are going to blow you away!:)
Following the evenings ceremony, please join us in the Cy Ballroom to finish up the evening with dining and dancing! Please come early in the day to download the area and chose your gown and tux:)
Thank you all for your great support of your Cy Awards and Cya at the Cys!
Sincerely,
The Cy Awards Committee
Cy is CommunitY :)
---
AWTeen Cy Awards Party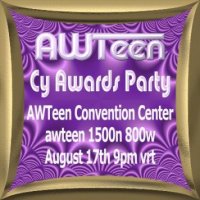 Courtesy of Chucks Party
AWTeen will be having a Cy Awards Party in the AWTeen Convention Center at awteen 1500n 800w on August 17th at 9pm vrt. All are welcome to attend. We will be featureing the many builders that were nominated for a Cy Award for builds made in AWTeen and following the opening ceremony will be Name That Tune hosted by Archergirl RyAr and a soccer game on the field west of GZ.
AWRADIO.COM will be providing live internet music for the evening and midis played by bot are all on the list of things to do for the entertainment for the party. Please be there 15 minutes to 9pm vrt to d/l. Anyone who would like to help with the evenings events or has other entertainment to provide, please e-mail Chucks Party at Chucks_Party@hotmail.com.
See you at the Cy's :)