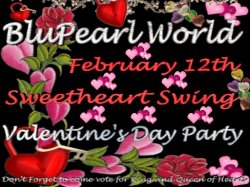 Sweetheart Swing
Courtesy of OneSummer
Come join us February 12th to celebrate Valentines Day. Hearts and sparks will be flying everywhere.. You might even see some fireworks going off!
The famous " G" rated smoochie booth will be back for its 3rd annual Sweetheart Swing event. We will be voting on King and Queen Of Hearts. You don't need to be a couple to enter, just be at the party. All new Valentines Day build as well..
See all of you sweethearts in BluPearl World February 12th... All day and evening event.