Join us in Winter world starting December 5 through January 4, for an event you don't want to miss!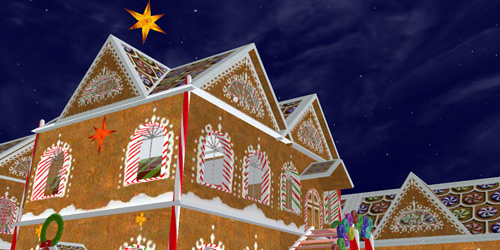 Under the starry skies of winter, beneath the backdrop of the Wintertide Cascade Mountain Range, a village is being born. From humble beginnings, we invite all of Active Worlds to join us in creating and celebrating a Holiday Town of Whoville greatness!!
Then on December 26, all are invited to participate or witness a parade of mover floats through the streets of our new Holiday Village in Active Worlds very own Christmas Parade!!
Starting December 5 midnight VRT, plots of all sizes will be available on a first come first served basis. All builders are invited to come and create their very own Christmas cottage all along the parade route!
Come one, Come all ...and build your own Gingerbread home!!
FOR THE
Christmas Parade
December 26 2010

And don't miss TWO holiday build contests: contribute a classic piece in a holiday village or test your building skill in the six-object candy contest.
Say Holiday in Winter chat or teleport to 715.00N 2035.50E 0.15a 90 for all the festivities!
More details on Active Worlds Forums



---