Lensman is an active Peacekeeper and creator of the Teleport Maze and AWSource (with lots of help). He won a Lifetime Achievement Award at the 2006 CY Awards.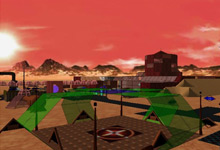 Welcome to Station 12, built by several rarely seen citizens, Bethany being one of them. Anyway this build is in Mars. While you are there see if you can find the old ground zero for Mars then walk south. See if you can find the NASA probe. I'll bet you didn't know Mars was originally built for NASA.


Location: Mars 98N 560E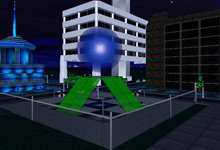 Station 86 is in COFMeta, a place hardly anyone goes anymore. This is kind of sad as it is also a bit of AW history. COFMeta is based on the book Snow Crash. It is a bit like Tron without the cool Frisbee data thingy. This station is next to Edge City, circa 2001 by Zig Theos and is one of the better examples of period building.


Location: COFMeta 121N 235E
The Teleport Maze now has 500 stations and is complete. We will not be adding new stations however if you absolutely must have a station, one can be moved. The maze teleport links are undergoing an extensive reprogramming which means that all past solutions to the maze are void.
---