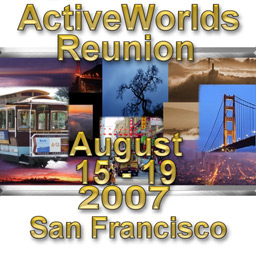 San Francisco Active Worlds
Reunion: August 15th-19th.
Hosted by Cablecar Gal
Come meet your Active Worlds friends & explore this wonderful city. Get to know the people you chat with everyday.

San Francisco is many things to many people. Come make memories that will last the rest of your life. The Travel Trade rates San Francisco one of the most popular destinations in the world. A popular slogan calls it "Everybody's Favorite City" Come... and make it one of yours.
Information:

Site: Best Western Americana Hotel Located in downtown San Francisco. 1 block to all major public transportation including Bart (Bay Area Rapid Transit).
Some of the events that are planned for this reunion include:

Saturday night Dinner Capps Corner
Evening at Beach Blanket Babylon
Trolley Hop Tour
Afternoon at Pier 39
Day at the Beach Santa Cruz
Roaring Camp Railroad
Looking for the AW Reunion Denver? Hosted by Archergirl and company, read more about the Denver reunion in the AWNewsletter here.
---