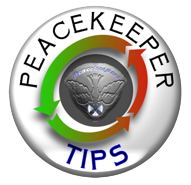 Occasionally intrepid builders discover an object in the way of a planned build. Sometimes the registered creator is "Not a Citizen". If you find objects like this you have found a bit of history from the early days of Active Worlds. Back then, when a citizenship lapsed the relationship of the objects to the builders account was lost and the owner name became "Not a Citizen" (NAC).
Peacekeepers can remove NAC objects. No investigation is required however the citizens seeking to have the object removed needs to file a garbage report (http://www.peacekeeper.net/get/).
Keep in mind, that when the Peacekeepers who are part of the Garbage Elimination Team (GET) arrive at your site they will have never seen the place before. Therefore it's very important that the person submitting the report provide as many details as possible (Coordinates / Height). It is not necessary to attempt to contact "Not a Citizen" because there is no user by that name.
Last month PK Tips covered the basis of building and claiming land. If you want to be a superior builder, lessons are available. There are teachers in Active Worlds who will, for free, make you an expert builder in short order. If you want to build with style these are the go-to citizens normally found in AWSchool. Here is a list of teachers to contact:

- Vera - neLLo - Chris Seferi - CeeCee - Gaia - Bach Zhaa - Strapples - SparrowKnight - Kenny McC (dreamer2 and tunablues if none of the others are online)
There is another group called the AWGuides who know how to locate some really amazing stuff; here is a list of Guides if you have the urge to explore with guaranteed results every time:

- Kiwichicknz o - Ridley - ZANZ - Zooo - Pattie. - Bluesky75 - Lobo. - Sir Squeeky



---