AWUniversity News
Courtesy of Elyk
New World
The new world is coming along great with brand new style and 3.4 features, including new objects, better built buildings in a college campus style, and a 3.4 favorite........terrain!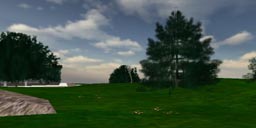 New world with terrain features
The brand new world, which is set to open in mid-summer, has been under construction since July. As you can see, from the pics below, the buildings and style of the world will be much more advanced and updated to meet with 3.4 features than the original world and hopefully, will create less lag. However, when the new world, which is being built in AWUniv2, is finished, it will be swapped with AWUPrime, so that visitors can still view the old world in AWUniv2.
Fall & Spring Contest Information
If all goes as planned for the opening of the new world in mid-summer 2004, the annual AWU AB Building Contest should start around the middle of fall, 2004, followed by the new TrueSpace Contest in mid-spring of 2005. Check the newsletter around the beginning of summer for more updated information! :)
Website and Application Info
-The AWUniv website has been fully updated and can be found at http://www.awcommunity.org/awu.
-Due to previous problems with the last application form, a new application form has been added to the AWU Website for use. Simply fill out the information on the site in an email and send it to awu@awcommunity.org. Hopefully, not as many problems will arise from this.
-Anyone interested is still welcome to apply. The application can be found at http://www.awcommunity.org/awu/awuapp.htm. Any questions that you have may be directed to Elyk at kfoerst@sbcglobal.net.