Get to Know Your Neighbors!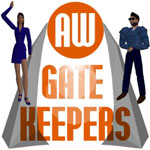 We think it would be great if everyone got a chance to get to know some of the volunteers in the community, and to find out why they love AW so much.
This month we highlight Skyee, who the Gate Keeper organization and the AW Community recognized in an appreciation celebration just recently.
Skyee has been a citizen of Active Worlds since September 1996 and a volunteer in the Gate Keeper organization since February 1998. In her 4 years of volunteer service she has spent countless hours assisting new users at the Gate, helped guide and set the example for new Gate Keepers as a Team Leader, and been vital in the leadership of the Gate Keeper organization as an Executive Team Leader. In August of 2001, she was one of the recipients of the Special Cy Award for The Generosity of Spirit.
Although many of her real life friends and family are also part of the Active Worlds community, she considers so many of her Active Worlds friends a part of her "family" as well, even though she has never met most of them. At the surprise celebration held in Alpha World 2938s 29990w, an outpouring of love, support an appreciation was bestowed on her in the form of tributes and beautiful 3D builds.
Known for her compassion, untiring devotion, hard work and dedication, it's no surprise the Gate Keepers and so many others in the AW community hold Skyee in such high esteem. We couldn't agree more. :)