Seattle Reunion
Courtesy of Cablecar Gal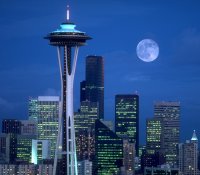 The backdrop is being set for the 2002 AW reunion.
Seattle Washington, USA has been selected as the host city for the upcoming summer reunion August 15th to August 18th. Activeworlds users from around the world are invited to convene at the Best Western Airport Executel hotel for an informal gathering of friends and acquaintances.
Activeworlds has been a place where many people have met and formed lasting online friendships and relationships. Many of these relationships have spanned the gap from online to real life.
If fresh clean air and the outdoors is your idea of a vacation youíll want to join us in Seattle Washington, known as the beautiful Emerald City.
Everywhere the focus is on water, to the west lies saltwater Pudget Sound, to the east, the fresh water Lake Washington; in the middle of it all is Lake Union.
Itís easy to catch the spirit of Seattle, contrary to popular belief Seattle is more than espresso carts and espresso stands.
It is common knowledge that Seattle is home to some of the biggest high tech companies, and the nationís leader in start-ups in general.
Seattle has it all.
One event being planned is a 4 hour cruise with dinner on Blake island in the Tillicum Village. Dinner will be prepared over an open fire with live entertainment following dinner. Tillicum Village on Blake Island typifies the Northwest it combines the best of what this area has to offer a chance to get out on the water, magnificent views. Wildlife, lush vegeation, fresh, salmon and indian dancing. The word" Tillicum" comes from the Chinook jargon meaning friendly people.
Please send mail to jlossf@earthlink.net if you think you may be interested and would like to be kept informed of updates. Logon to: http://www.home.earthlink.net/~jlossf/run.htm
It's easy to see why Seattle Washington is the host city for this years Activeworlds Reunion 2002. With naturally beautiful surroundings and so many amazing places to go and extraordinary things to do and people to meet, It's easy to catch the spirit of the city.
I invite you all to come and experience with me (cablecar gal) this adventure. Our home away from home will be the Best Western Executel minutes from downtown Seattle. Let's have some fun this summer in the fresh clean air of Seattle Washington.
Note: Users attending this event do so at their own risk. Activeworlds Corp. is not sponsoring nor is directly related to this event.