Join the community for the 10th anniversary of the Multi-World Easter Egg Hunt! This year's hunt will begin April 4th at 8PM VRT.
Act now! If you have a world you would like to include in the Egg Hunt or prizes you wish to donate, please learn more at the hunt web site: http://www.andras.net/egghunt2008
Andras will host your world for the duration of the hunt at no charge if you normally host your own world at home.
About the Hunt: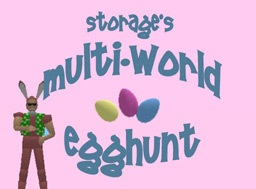 Tourists and citizens both will be able to participate in the hunt for prizes. As usual, we will have many obstacles in the way of the hunting which can either help or disrupt the hunter! Hunters participating will run across obstacles such as:
The infamous "point deduction eggs" (eggs that give a negative score and deduct points when clicked on)
Disappearing eggs (eggs that disappear instead of giving points when clicked)
Flaming eggs (eggs that burst into flames upon clicking and deduct points)
Quiz eggs (eggs that display trivia questions in order to achieve points)

The hunter with the most eggs at the end of the hunt wins the grand prize. Prizes will be donated by a variety of citizens and will include worlds, citizenships, citizenship extensions and object prizes donated by our community's talented modelers! So if you are a tourist who is looking into getting a citizenship, now is your chance to try and win one!!!
Please note that ALL hunters MUST fill out the prize selection form located at http://www.andras.net/egghunt2008/prizeselection.php in order to be eligible for a prize at the end of the hunt. This form was created so that prizes could be more efficiently distributed amongst the hunters who are participating and so that certain participants aren't stuck with a prize that they cannot use (i.e. a tourist receiving a world when they do not even have a citizenship).
Interested in helping us out?? We are always looking for more world owners and prize donators to join in the hunt. If you would like to donate a prize, visit the donation submission page, and your prize will be added directly to our site!
For more information on this year's hunt, visit our web page at http://www.andras.net/egghunt2008/
Help promote the 2008 Egg Hunt with this ad: http://ns2.andras.net/arts/storagead.jpg
See you in Storage World!!
---