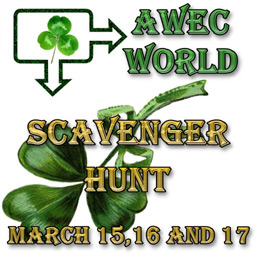 Join us March 15, 16 and 17 for the great "Shamrock Hunt!"

Everyone is seeing green. Shamrocks are hiding everywhere. You could win a fabulous prize!

This event starts at 1PM VRT, March 15th and ends at 1 pm VRT, March 17th.

Lots of shamrocks to gather up for this event.

AWEC is wishing everyone a Happy St. Patty's Day.

Prizes Available:
For Tourists:
2 X 2 month cits.
4 X 2 week cits.

For Citizens:
2 X +2 to bot limit.
2 X P-20/10 for 2 months
Event page online at: http://www.awcommunity.org/awec/march_2008/scavengen.html
---