Demeter Terrain Editor Now Available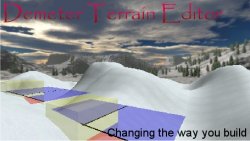 Courtesy of Brant
I'd like to extend the invitation to all citizens and tourists to try out one of the newest programs in Activeworlds, the Demeter terrain editor. Demeter revolutionizes building by making terrain creation available to all builders, not just to world Caretakers.
Demeter is an improved version of the terrain software that has been active in AWTeen since June 29, and allows world owners to provide safe and encroachment-checking terrain editing capabilities to all visitors. Because Demeter uses the AW building interface with which everyone is familiar, it's easy to duplicate many terrain cells at once simply by pressing CTRL-insert, even if you're the only one building. In addition, Demeter features a variety of commands that assist in the manipulation of terrain. For example, Demeter can restore all of the terrain in a certain area to zero height with one simple command, while it would take several minutes, if not more, to perform the same action manually.
Demeter was designed with three main goals:
Ease of use: All you need to know to get started is your privilege password.
Stability: Each final release of Demeter is beta tested thoroughly to ensure that it is stable and secure. Demeter has been running continuously in AWTeen for over a month at the current time and shows no signs of stopping. Demeter can handle disconnections and Internet congestion with ease.
Universality: Demeter works similarly anywhere it's placed, so someone who has used Demeter in the past can easily visit a new world and continue building with terrain without having to relearn the commands. Similarly, programmers can make plugins (such as Strike Rapier's random-generation tool that generated the terrain in the world Gulakon) that work in any world where Demeter is enabled.
The program is available for free download at http://www.shoemakervillage.org/programs.html. Everyone is welcome to use it in any world they choose, whether it be public building worlds or private RPG-type worlds. Demeter is invisible to non-build users, and will not modify existing terrain in worlds where terrain has already been edited by other means.
To make it easy to start out, a complete texture set consisting of five major textures and thirty-five transitional textures between the major textures is available on the website described above and is free for download to use with Demeter. Of course, any terrain set of your choice can be used as well.
Major worlds that have used Demeter include A!!CT, pata, AWTeen, and others, in addition to many smaller worlds. Be sure to try out Demeter in your world today!