Lensman is a retired Peacekeeper and creator of the Teleport Maze. He won a Lifetime Achievement Award at the 2006 CY Awards.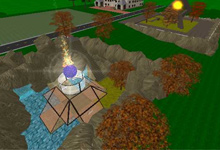 Ferruccio built a Golf Course among his many other accomplishments. Station 391 is very near it. If the explorer proceeds to the north he will discover SW City. SW City is one of the best established communities in Active Worlds - it has few rivals for quality and sheer size (it is huge). Many of the best builders in our universe started and reside there. Plan several afternoons if you want see to see it all. Absolutely use the AW Mapper too. Details about the community are here http://swcity.net/.
Location: AW 1590S 3781E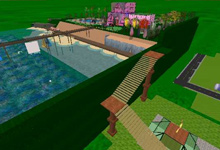 Let's go to the seaside with Miriam! Station 321 sits at ground level and the build is tall. You'll be climbing stairs so see it. Built in 2004 Miriam created a colorful and fun beach side experience and there are interesting things north, east, south, and west, but expect to walk a bit. It's a fun build enjoy!
Location: AW 10268N 12514W



Announcement: The Teleport Maze has expanded to 458 stations and the goal is 500 stations. If you would like your very own station (enhanced with 4.1) telegram Lensman or contact Lensman64@aol.com. The land requirement is a minimum of 3X3 walk objects or Landa objects (which is better) and if you want the station to blend with your build 5X5 is best.
---