Announcing the 3rd annual celebration of technical and creative excellence!
SATURDAY, APRIL 26, 2008 @ 11:59PM VRT
Pacific: 7PM * Mountain: 8PM * Central: 9PM * Eastern: 10PM
The Support AW Awards were created to embody all of the most outstanding work in our virtual universe. This is what it's all about! Our awards span areas of environment design, technical achievements, and leadership.
The 3rd Annual Support AW Awards will be hosted by supportaw.com founder maki and Activeworlds, Inc. master 3D artist Stacee.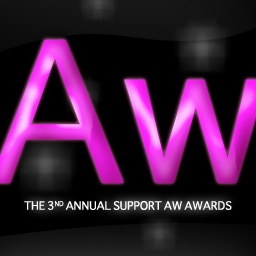 Nominations
Who better to suggest nominees than you? We welcome the community to nominate for all categories in the SAWs. Feel free to nominate yourself and your own creations - the purpose of collecting nominations is to make sure all of AW's best is considered.
Take a moment to visit our updated web site at sawards.com.

Click "Nominate" to place a quick nomination,
or click "Full Site" to view more information about the awards.
See you at the show!
The Support AW Awards is an annual awards ceremony dedicated to the Active Worlds community. Recipients of SAWARDS are chosen by a council made up of different community members each year. We accept all nominee entries but reserve the right to modify category choices or exclude unsubstantial entries. For more information visit sawards.com.
The Support AW Awards are sponsored by JTech Web Systems.
JTech provides outstanding world and object path hosting.
The Support AW Organization / SAWARDS is not affiliated with Activeworlds, Inc.

---