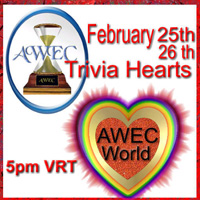 Looking for some fun? Well then, AWEC has something special for you party animals and trivia buffs! Come join in a rocking celebration in AWEC world, February 25th through the 26th, 5pm VRT.
There will be music, prizes and of course, lots of fun!
To win a prizes you must attend event both days! The bot will ask the questions and keep track of scores. Happy Valentine's to all!
As for prizes:
1 - P20 world for 6 months with tourist access, not hosted
1 - 5 simultaneous user increase to a world of your choice for the duration of the world registration
AWEC Calendar

The people at AWEC want to bring you many fun events in which to participate. If you have any events you would like us to sponsor, please let us know awec@awcommunity.org
We will include your event on the Community Calendar! The deadline to register your event is the 25th of the month prior to your actual event!
OneSummer
AWEC Director