AWEC Trivia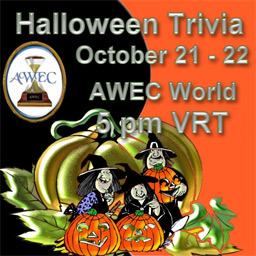 Looking for some fun? Well, then AWEC has something special for you party animals, beast's and trivia buffs! Come Join us and play Halloween Trivia in AWEC world October 21st and 22nd, 5pm VRT.

There will be music, prizes and of course, lots of fun! Beware of the dangers that lurk during this exciting event, for they will pounce and devour all those of a weak heart!

Visit the web site:
http://www.awcommunity.org/awec/halloween/
AW Festival 2006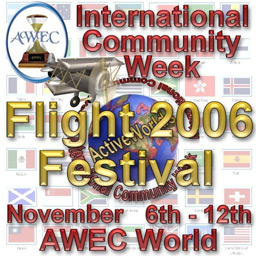 Its that time again! Active Worlds is celebrating its 11th Annual Festival "Flight 2006." The Festival kicks off in AWEC world November 6th and runs for a whole week, ending on November 12th.

We will be celebrating International Community Week! This gives all users of Active Worlds a chance to meet citizens and tourist from around the globe. Everyone will enter and international airport where they can go up to a ticket booth, grab a ticket, an warp off to visit all worlds that will be participating in this year's event..

We would like to thank all world owners for being part of this years event and special thanks goes out to our international worlds that have signed up as well. Please check out the web site for more information on this event. Also its not to late to sign up your world!

Web site information http://www.awcommunity.org/awec/icw/
Halloween Teleports
Want to know where to find all the spooky builds this Halloween? Come to the Halloween Teleport Center in AW.

Learn more in this AWNewsletter article.
Opportunities

The people at AWEC want to bring you many fun events in which to participate. If you have any events you would like us to sponsor, please let us know awec@awcommunity.org. We will include your event on the Community Calendar! The deadline to register your event is the 25th of the month prior to your actual event! Or you can send off a gram to Agrin Miars, Nightraven. or OneSummer.
OneSummer
AWEC Director