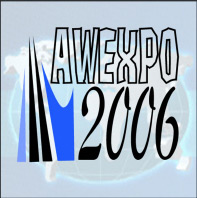 Sure to be the event of the year, AWExpo 2006 is coming soon!
The 2006 AWExpo will be held during the 1st week of this coming November in Sparkles world. The theme is simple: anything related to AW!
The Expo will be made up of several booths created mostly by AW citizens like yourself! Booths will showcase worlds, builds, projects, web sites, organizations and more.
If you want a booth of your own it may be too late: the deadline for entries is October 1st (the release date of this newsletter). Booths have to be completed by October 15th.
Inquiries may be sent to citizen Newman111. Thanks and we hope to see you there!
For complete details, visit this thread on the AWForums: http://forums.activeworlds.com/showthread.php?t=5
AWExpo 2006 web site can be found here:
http://www.sparklesrm.com/expo06/index.html
Buy AWExpo stuff! Cafepress store online here:
http://www.cafepress.com/awexpo2006