XBOX INFO STATION IN AWTEEN
Courtesy of XBOX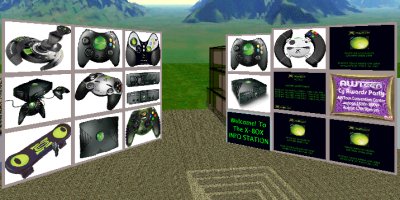 Just in June a place in AWTeen was created: XBOX INFO STATION. Since then it has grown very popular! Today dozens of people visit it every week.
Xbox Info Station shows tons of screenshots from upcoming Xbox Games and breif descriptions about each game. Also there are many pics of peripherals for the Xbox, and WOW! are they a sight! Now, Xbox Info Station is featured on AWTeen's Website and also is being featured on ABN AW's First Virtual Tv Network. Now there is even a Show on ABN done by XBOX INFO STATION called XBOX NEWS!. Also some very special Events! and Party's! are some upcoming events.
Visit XBOX INFO STATION Today! at AWTeen 550S 49W XBOX THE GAME CONSOLE!