The AWeakest Link

Courtesy of IHNK
After its big sweep of the UK, The Weakest Link, one of the best game shows ever, made its way to the USA. Now The AWeakest Link has enteredů. Active worlds!
On Saturday August 11th at 5:00 p.m. VRT The AWeakest Link will be held in Kink&os world, center of relaxation in AW. But for one day Kink&os will be transformed into a place of insults and battle to survive. 10 chosen people work as a team to bag as much money as they can while the host, IHNK, ruins their self-esteem and self-worth. Come watch this funny and exiting show! Out of the 10 players only 1 will remain taking home a prize depending on how much they bag. So come join your host, IHNK and your co-host, sticks, for a night of fun. Then afterwards you can enjoy the cy nominees ball at 9:00pm VRT.
After each round your allies become your enemies as they, one by one, vote to get you kicked off the show. Why? So they can get more money! After an insult or two the person with the most votes will take that long walk of shame off the stage and into the audience.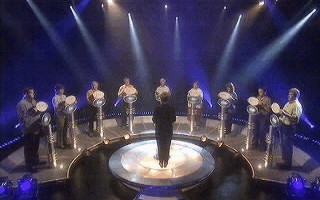 After only two remain they go head to head to win the prize. The winner will the prize, the looser gets nothing. We will be using MP3 sounds for some parts of the show so please turn your speakers on and enjoy. Also please come 10 minutes early (4:50p.m. VRT) so I can go over the rules and to let the world and MP3s load. It shouldn't take long.
This game is the start of a series of game shows that will take place in U7 world, the center of game shows in aw, with AWHollywood Squares, AWeakest Link and more coming soon!
And if everything goes well there might be another AWeakest Link game in the future! So when you come please bring your manners and just have a good time! If you would like to donate any prizes please contact IHNK!
But you are also welcome to come look at the world before the game! This will give you a chance to load the world before the game begins!!! See you there!
You Are The AWeakest Linků. Goodbye!