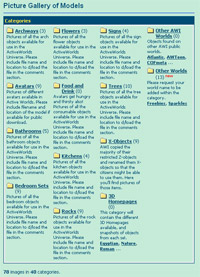 I [Bastillion] have created an online photo gallery, with the premise that it will contain pictures of the objects found in the Active Worlds Universe.
This gallery will hopefully become a resource where others can help post pictures of the objects we all use. It would indeed be quite a task for just one person to snapshot all the objects. :)
It will not only showcase the objects in the world AW, but any other objects that someone might decide to post pictures of.
I did this, because while I see the advantages of having Object Yards to browse (you get to see the actual objects of course!), it would be nice to have a visual of what the objects are, just sitting in either your internal or external browser as well.
The site is currently located at http://awobjects.bastillion.net which I am hosting off of my own paid space. There will be no charge to register or browse through the site, but I might have to modify it once others really begin using and adding to it.