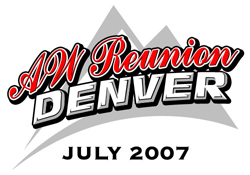 Hello again. Last month we announced information about our registration fee, hotel, and itinerary. This month we're announcing some more information about our itinerary, as well as a new registration fee payment option.

In addition to all of the planned activities we revealed last month, we have two more optional activities to reveal. On Friday, July 13th, we'll be heading down to Hammond's Candy Factory and taking their free candy tour. Afterwords we'll spend the afternoon at Elitch Gardens theme park, a former Six Flags affair that has plenty of thrill rides as well as a water park. Of course, everyone is free to do what they like, but hopefully we'll see you at these two events as well. :)

Also, for everyone who is currently planning on attending the reunion in Denver that registration fees must be postmarked and hotel rooms reserved by June 9th if you want the special group rate. For more information on the hotel and the group rate offered, see our Lodging Page.

To register for the reunion, fill out the form on our Registration Page. Once you have done so, you can send in your $75 registration fee by mail or pay online using PayPal. The fee will go towards your Pikes Peak Cog Railway ticket and meal, van rental for arriving at Pikes Peak, drinks and snacks, and a welcome bag item.

PayPal deducts a transactional fee from the amount you send us, so if paying by PayPal, the registration will be $79.20 plus the optional fee items you wish to purchase. Our PayPal address is registration@awreunion.com.

If you wish to pay by mail, see our FAQ Page for details.

If anyone has any questions, please don't hesitate to ask. Send a telegram to SW Chris or e-mail him at registration@awreunion.com. See you in Denver!
Looking for the AW Reunion San Francisco? Hosted by Cablecar Gal and company, read more about the San Francisco reunion in the AWNewsletter here.
---