Frontier towns, haunted houses, gardens and mountain trails; you'll experience them all during the Yellow Rock Park Treasure Hunt - Sunday - March 14 - 5PM VRT.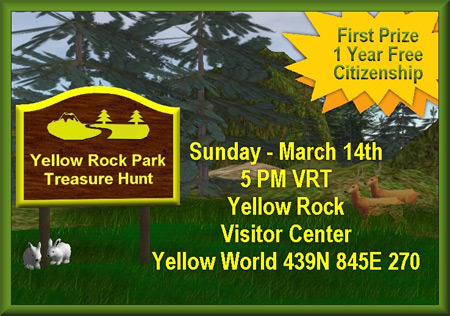 Renee. and Gaia invite you to join the fun beginning at the Visitor Center - 438N 845E in Yellow World. All citizens and tourists are eligible to participate.
There you will find a teleport to begin your quest to be the first to find the treasure at the end of four optional trails. Please note that the teleport will not be activated until 5PM VRT on the day of the event.
There are 5 stops on each trail, each with a clue to locate the next teleport that will take you to the Treasure Trail. The first person to find the treasure will receive a free one year citizenship. Other prizes to be announced.
Even if you are not a winner, it will be a fun time for all. We wish you good luck in advance and hope to see you there.
Stay tuned for the Yellow Gazette! An independent newsletter dedicated to Yellow world. Each month you'll find a new article from the Gazette in the AWNewsletter.

---