ActiveWorlds 2004 Reunion
August 12th-15th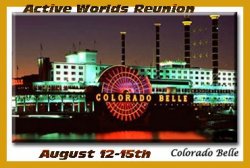 Courtesy of Cablecar Gal
Laughlin, NV is this years destinaton for pixels of all shapes and sizes.
A desert oasis where big-time entertainment, low-stakes gambling and first class accommodations are concentrated in luxury hotel-casinos fronting the Nevada shoreline of the Colorado River where it defines the natural borders of Nevada and Arizona.Customers challenge Lady Luck on thousands of slot machines and hundreds of live table games. Poker rooms, race and sports books and keno lounges line the hundreds of thousands of square feet of casinos.
Our hotel for the weekend is the Colorado Belle which is a replica of a 19th century Mississippi paddlewheel riverboat over 600 feet long and 6 decks high! Situated in the center of casino row in Laughlin, Nevada, the "Belle" is built along the beautiful Colorado River. Outside, guests stroll along the riverwalk, enjoying the serenity of the river and the Arizona landscape. Inside, live and electronic games create an atmosphere charged with excitement. In addition, the hotel offers a fitness room, spa and salon, a bubbling spa, two beautiful swimming pools—one with a waterfall—and a delightful sandy beach area along the river. Colorado Belle has the largest restaurant line up on the river. Among our many dining venues are the Boiler Room--an award-winning microbrewery and restaurant.
For more information please check out our web site and enjoy
http://pages.sbcglobal.net/koolccg/reunion2004/run.htm
Note: Users attending this event do so at their own risk. Activeworlds Inc. is not sponsoring nor is directly related to this event.