I am happy to announce that the public build world A!!CT has returned to AW.
Those who have been in Active Worlds since 2001 remember A!!CT as being a privately owned public build world. A!!CT which started out under the name A1CT, started out as a trial world on August 16, 2001. The world name was picked because I live in Connecticut in the USA (the CT is an abbreviation for Connecticut) then on September 16, 2001 I chose to purchase A1CT.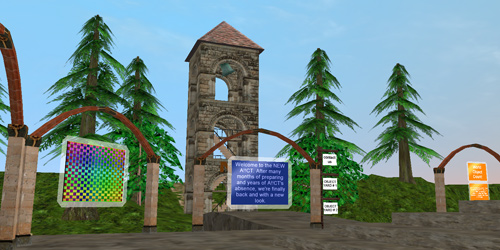 From that day onward A1CT grew in size and became a public build world, where citizens and tourists alike found no restrictions on how they built or what they built. On December 15, 2002 A1CT was renamed A!!CT at the request of many world builders and users. I agreed to make the change.
Since then A!!CT, which used a commercial hosting service, created its own object path and the world grew to the size it is today, a P-180 and is one of the biggest privately owned worlds in AW today! In 2004 when I was deployed to Iraq for the National Guard, I vowed I would return to AW and bring back A!!CT just as it was when it closed April 15, 2004.
The time has come for the long awaited return of A!!CT world, although the original GZ has been changed and updated, the world contains all the builds made by AW citizens who have built in A!!CT from 2001 to 2004. There are a few problems in the world with missing models, but we are trying to locate those models and textures.
The new A!!CT World has been updated to all available 4.2 features and has added over 28,000 new models to our object path. At the present time our path holds about 43,000 models.
All special commands and rights are allowed in A!!CT and although our present world host is on a Linux server, we are working on getting the unsupported VoIP feature to work. The world is perfect for users who have V4 privileges or developers of new features and robotics.
A!!CT world has a bot in use which has been written exclusively for A!!CT and has many new advanced features, which interacts with citizens and tourists and changes the worlds settings on 24-hour cycles.
There is unlimited land open to build on and build rights are open to all. Bring in your bot but keep it outside of the GZ restricted area. There are so many new features available in A!!CT world; I suggest you visit and find out more about the world, its features and its history.
If you have built in A!!CT between 2001 and 2004 as a citizen or tourist, your build is most likely there.
Please come visit A!!CT today!

MrBruce
A!!CT World owner

Teleport to A!!CT World


---