Fandom Universe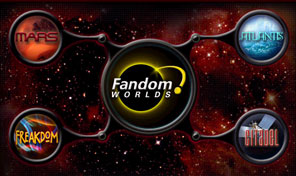 Check out the latest universe built on your favourite Active Worlds Technology! We've been working with Fandom, Inc. to bring cool virtual worlds to their web site, which is home to fan sites for sci-fi, fantasy and horror entertainment.
The Fandom Universe consists of four unique virtual worlds in which users, choosing from a variety of "avatars" or characters, can visit, chat, exchange files, build dwellings, own property, shop for real merchandise, and play a host of interactive games – all in real time.
In order to visit Fandom Universe, you must first download the browser. This is the client software that you will use to move around inside of the Worlds and navigate from one World to another. This is the full-featured version of the browser, not a demo or trial version.
If you wanna check out the new Fandom Universe, click here to download and install the software.