Destination Seattle Washington - August 15th to 18th, 2002
Courtesy of Cablecar Gal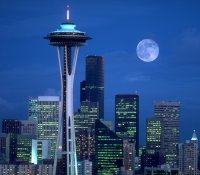 Get Active with Active Worlds August 15th-18th, 2002. Nestled between the Olympic Mountains to the West and the Cascades Range on the East, Seattle Washington is perfectly situated to take advantage of the gifts that Mother Nature has been so kind to bestoved upon US to see.
Which is why Seattle Washington is the host city for this year's Active Worlds Reunion. Blue water, not yellow bricks, surrounds the Emerald City of Seattle. Cupped between the jagged Olympic Mountains and The Cascade Range to the east. The City itself is a narrow strip of land between the Pugent Sound and 18 mile long Lake Washington. Another reason why Seattle was named as one of the best places to live.
Many of us have formed what will quite likely be life long cyber friendships,some of us have even gone so far as to meet in person and shared a laugh or two. This real life reunion is being planned and hosted by me just for that simple reason it's a informal gathering of people and friends. So kick off your shoes and relaxe this summer, the fun is just starting. If fresh clean air, and the out of doors is your kind of relaxation this summer then you surely will want to come along with all of us and experience what Seattle Washington has to offer.
Some of the events that are being planned is a guided tour of Pikes Market the oldest Farmers Market in Seattle dated back in 1907 with plenty of time to shop and explore, and learn of the history of the area., with lunch at Pikes Brewery and rest some.
My Sincere wish is that all of you once in your life time in Active Worlds will get to experience what I have There is nothing like a Active Worlds Reunion -words can't describe meeting some one that you have chated with over the weeks and month on line to share that experience is a story in itself. The memories last for ever, and the stories are told.. Active Worlds Reunions are FUN!
For information on the Seattle Reunion click on the url Summer of fun http://www.geocities.com/Pentagon/6179/run.html.
Please send mail to koolccg@yahoo.com if you think you may be interested and would like to be kept informed of updates.
Note: Users attending this event do so at their own risk. Activeworlds Corp. is not sponsoring nor is directly related to this event.