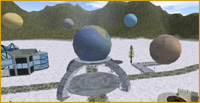 TeenGate Celebrates It's First Anniversary
Courtesy of Matt888
So soon? Has one year really passed so quickly? Yes, it's true! TeenGate has been open for one year as of January 20th, 2005!
From donations to visitors to parties to websites and even a CY Award in May 2004. In the past year, TeenGate has proven to be a success.
TeenGate started back in late 2003 when a friend of myn, C P was telling me about some of his older projects he used to work on. TeenGate was origonally C P's idea, it was in AWTeen and ALaskanShadow helped him with it. Eventually it died off so I thought it would be a good idea to create a world and continue with this project.
After some friendly AW citizen's support, object path and world server set up, I began work on the world. Some of you may remember the old nice smooth tropical looking terrain, well that was origonally snow covered, but I decided it looked ugly like that so I used a light grass texture instead. I got a few custom models for the GZ objects and AlexTheMartian built the origonal TeenGate club.
TeenGate opened on January 20th 2004, and we had many users attend the opening ceremonies, filling the world right up to 25. It was really a amazing evening and I was very impressed with the response from the community.
Some of my greatest memories around the time when the world first opened was the user upgrade remained at 25 for about a month when AWI forgot to remove it =P. We had some of the funnest parties with Archergirl DJing on AWRadio in our new club.
I can't write a news article about this project without mentioning a great friend of myn; bluebean. Without bluebean's support, TeenGate wouldn't exist today. He bought the world, made sure it had a descent user limit for a chat world, tourist enabled it, and made sure it was renewed each year. Thank you bluebean!!