Lensman is a retired Peacekeeper and creator of the Teleport Maze. He won a Lifetime Achievement Award at the 2006 CY Awards.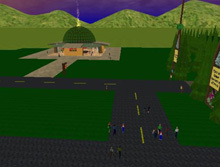 The newest Station in the Maze is Station 468 and it is a Polybotanical Garden by RonVondaH and VondaRonH. They are husband and wife now in real life and married on October 2nd in Alabama. They built the gardens together and had lots of fun doing it. The giant flowers are especially stunning.
Location: AW 4086S 4460W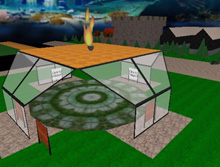 Remember Atlantis? Here is Station 237 built in 2007 next to a castle wall and village created by Red Sorceress in 2001. It's a nice little build well laid out and worth a look for all you people planning to build in a medieval setting.
Location: Atlantis 851S 17W

And… §«¤ºº*ºº¤»§ Happy New Year §«¤ºº*ºº¤»§ from Lensman!
Announcement: If you would like your very own station (enhanced with 4.2) gram Lensman or contact Lensman64@aol.com. The land requirement is a minimum of 3X3 walk objects or Landa objects (which is better) and if you want the station to blend with your build 5X5 is best. Only 32 new stations to go!
---