Lensman is a retired Peacekeeper and creator of the Teleport Maze. He won a Lifetime Achievement Award at the 2006 CY Awards.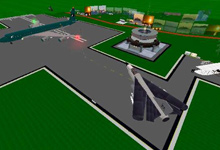 Starting the New Year off with some seriously great building is station 408. Here is an incredible collection of very realistic aircraft, vehicles, and ships. The level of detail is very high. Much of the effort here is very recent and MIKE is a builder to watch should he decide to participate in a building contest. Take some time and go see what a master builder is capable of.
Location: AW 1874S 2303W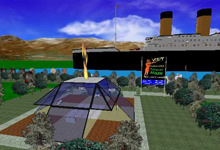 If you haven't seen the Titanic you should because it this is one of the grand old builds. It is just north of Station 104. The Titanic was built by Omega in 1999 it is quite possibly one of the first successful large scale builds in Alphaworld. In my exploration of the AW universe looking for good Maze Stations sites I have found several uncompleted attempts at this particular subject. This one is by far the best and the only complete one I know of.
Location: AW 13317N 9339W


Announcement: The Teleport Maze has expanded to 440 stations and the goal is 500 stations. If you have a favorite build (yours or someone else) and would like your very own station (enhanced with 4.1) gram Lensman or contact Lensman64@aol.com. The land requirement is a minimum of 3X3 walk objects or Landa (which is better) and if you want the station to blend with your build 5X5 is best. In closing:
,,oº°ºo,,.-*-.,,.-*-.,,.-*-HAPPY NEW YEAR -*-.,,.-*-.,,.-*-,,oº°ºo,,
---