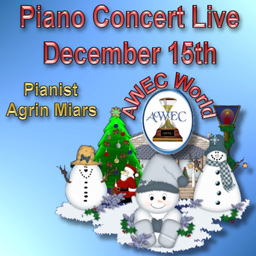 Agrin Miars will bring the world to you.
You can enjoy intimate evenings with some of the world's greatest holiday music. Classical holiday chamber music at its best!
No reservations are required for individuals or for families, but we do require your love of all the favorite holiday music.
Please come join us for this live broadcast and let your friends know about it as well.
Tourist are welcome, too.
This live performance will be broadcast on Active Worlds Virtual Reality Radio.

Learn more about this event at: http://www.awcommunity.org/awec/christmas/

We are also asking anyone with a town or world interested in signing up for the Community Festival to please contact us! Check out this site for more information: http://www.awcommunity.org/awec/festival2007/main/


AWEC Opportunities

The people at AWEC want to bring you many fun events in which to participate. If you have any events you would like us to sponsor, please let us know.

Contact: Agrin Miars, Nightraven., or OneSummer



---