It was my first trip to Canada. I wasn't prepared. You try to prepare. You think you know what you are going into. You think you've done the research and you figure it's a lot like America, but in the end, it's alike and different at once. I ended up surprised, sometimes lost, laughing and delighted, and for my first culture shock it was a pleasant way to go.
This article is continued from Vancouver Part 1
Day 3, Saturday
I awoke early yet again. Looking out my room window I could see that clouds were hanging low, hiding the tops of the mountains in the distance. Mulling over the advice we had received from our new friends at the Giggledam, we had been hoping to go to the top of Whistler Mountain. It was, after all, a site that no visitor should go without. A quick call by SW Chris discovered, though, that a trip up today would be mostly in vain, since it was not expected to clear and the view was obscured by the clouds. There was plenty more we could do on this day and we were going to make the most of it.
Capiliano Suspension Bridge had been on our itinerary for the day, but we learned of similar park that had free admission and looked to be every bit as interesting as Capiliano. That was put on the list, along with visiting the Olympic site that was being built, and any other sites we decided to do in between there and the 35-mile drive we were taking up the western coast of Canada. Stowing snacks and cameras, we jumped in our beloved rental car and set off on our adventure.
First was the Lynn Canyon Suspension Bridge with its acres of deep old forests (can you say 'Endor'?). There was a small information center and café restaurant with a vendor selling cartons of fresh berries of every kind outside. We bypassed these in the excitement to get hiking. The interesting thing about Canada: it has many, many natural and ecological sights for its people to enjoy. They like to keep it as natural as possible which means for the most part you will not see many chain-link fences or other railings to keep people in carefully planned areas of the park. In Canada, you are pretty much free to go anywhere. The novel thing here is they expect you to use common sense when you are going wherever it is you are going. It was only in extremely dangerous areas (this usually meant that in the past someone had fallen to their untimely death) that they would post both a sign and safeguards. In a way, it was refreshing to have this freedom to think for ourselves.
The suspension bridge was a few yards from the café and this was obviously a big draw for a lot of people there. The experience of being on a suspension bridge is a lot like standing on the gangplank of a boat while it is being tossed. You are stepping on wooden planks that are being held by rope and metal above a very, very deep gorge with water waaaay below. Now I admit, I have a vivid imagination. I once went hiking with a group of friends, exploring all the trails on and off the map I had. We had all kinds of adventures, because at some point, aliens and creatures started coming into the picture and we were MIB (Men In Black, wow, am I showing my age or what) trying to find what these aliens were up to in such secluded settings. Things got a bit hairy for us, dodging behind trees when one of the aliens spotted us and began firing. That's about the time a search party found us. We had forgotten the time in the midst of our game.
But here, in the present, standing in the center of the hanging bridge, friends at my side and people coming at us from either end, I suddenly felt like Indiana Jones. I began reciting Indy's lines to his pursuers while raising my imaginary saber to cut down one side of the bridge. It raised a few chuckles from those who realized what I was doing. Around that time someone decided it was amusing to give the bridge a bit more bounce while we were all on it and I had to grab the railing near me. I gave a sideways glance looking for the culprit. Enough fun on the bridge. Time for firm ground.
Stacey on the Lynn Canyon Bridge on Flickr
There were paths everywhere and we had our pick to wander. Another thing you will notice about Canada and their love of nature: they do not trash their environment. That's right, you will not find a lot of random garbage, well, anywhere. They like to keep their surroundings clean. They also realize the importance of having garbage receptacles that have lids. It helps to deter attracting animals (such as bears) to areas frequented by humans and possibly causing harm to either. Did I mention how cool I think Canadians are? Consider it said now. They are very cool people. And yes, depending where you hike in these dense forests, you can and will run into bears, moose, elk, and a few other large creatures (Sasquatch!) that roam them as home.
If Syntax Were Here.... on Flickr
We might as well have been on Endor from Star Wars. Maybe this is where they shot Endor. Redwoods, old, tall, incredibly beautiful trees. Slugs, huuuuge slugs, different shades of brown and some bright yellow. They were all over. I saw one mother teaching her child about them as they crouched over one as it left a silvery trail over the forest floor. SW Comit had whipped out his green laser and was testing it on birds again. I would have laughed if an Ewok had jumped out and taken his shiny toy.
We came upon a small bridge that was built over a series of pools and waterfalls. The pools in between each waterfall were a beautiful turquoise blue. I was looking for good places to take pictures when a young man in nothing but shorts climbed up on the wooden railing of the bridge and, before the surprised crowd, jumped into the pools below. Everyone watched the water anxiously for what seemed quite a long time until he emerged, to wild cheers, and he leapt down each successive waterfall finally reaching the waterway at their base.
He eventually plodded out onto the shore below and made his way back up to the bridge to answer questions from the many curious watchers that waited. Apparently he goes all over doing this kind of thing. It's his extreme sport. He meets other people along the way that share his same thrill. Apparently he was not the first to try out this jump and had learned it from someone else, but had made it his own. You know, there is something about both an Irish and Scottish brogue that make a person entertaining to listen to. He had an Irish one, and he knew how to keep an audience. We had to laugh when he regaled how he had done this jump about a week ago and someone panicked and called the police.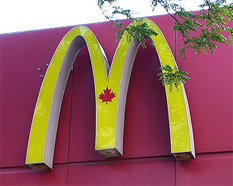 We spent more time exploring and trekking, but eventually, our stomachs made us go off in search of lunch. We decided on quick and easy: McDonald's. Everyone in America knows what it is like to go to a McDonald's. Usually, an unhappy person takes your order and you are fortunate to leave with what you ordered. In Canada, I think they are all on happy pills. Not a sad face to be found working behind the counter. It was a pleasant experience. And all the golden arches have a little red maple leaf smack dab in the middle.
We did a lot of driving this day, and we even got to try out a bit of off-roading up a steep dirt mountain road in our search for the Olympic center being built just outside of Vancouver. By the time we made it to the top though, the center had closed. Our group decided to at least get pictures at the sign, so up I climbed. The other cars that had followed us up stopped in curiosity and I told them we decided to get a group picture here and invited all of them to join us. I don't think they understood a word I was saying. In Canada, it's not uncommon to run into a lot of people that don't speak English. Kind of neat actually. We got our pictures and zoomed back down the mountain. That rental car was incredible.
The landscape was phenomenal. Photographs just don't portray how massive everything is, or how green. Mountainscapes. Waterfalls. Canopied forest floors with age-old trees. And always the Pacific coast showing up around a hidden bend. This entire day had been our chance to commune with nature. We didn't return back to the city until the sun was setting.
Stawamus Chief Up Close on Flickr (What it's like to run into a mountain)
Sam at Shannon Falls on Flickr
Once we were back at the hotel, I went down to the lobby to see about finding a nearby pizza place and possibly a movie theatre. They had a touch screen in the lobby that told you about attractions in the area. No-go on the movie theatre, but plenty of pizza places. The screen was by the lobby entrance, and apparently that night was salsa night in the club. Lots of guys on their way through to the club. I know, because quite a number stopped to ask me if I wanted to go dancing with them. The third was the most determined, promising he'd teach me how to salsa, since he was very good at it. I bet he is. I politely slipped out of giving him my number and figured it was best to head upstairs and find the group I was with. They were busy playing away at a Mario video game and pizza was being delivered. Pizza came, we ate it up, and then I slipped back to my room for some down time. I was bushed. I fell asleep, Canadian "Dancing with the Stars" playing in the background.
Day 4, Sunday
Last day. There is something forlorn and yet exciting about the last day of a reunion. I look out the window. It's raining. Steadily.
Today I'm supposed to get to go see the Sri Lanken Gem Museum. I've been anxious to check it out and although I've given the guys an option to check out other things in the city they opt to come along with me. We decide to take our rental car into town instead of public transportation. I say goodbye to my hotel room and we check out downstairs.
We ended up getting to drive through the Vancouver's Chinatown. All the color you would expect, bright reds and yellows, the giant arches (?), and vendors outside selling fans and a variety of Chinese delicacies. Even in the rain the streets were busy.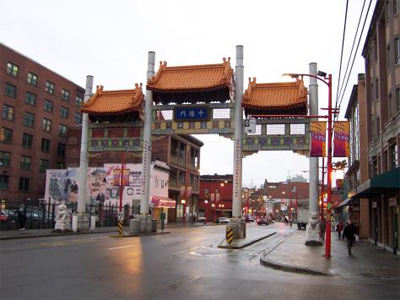 We parked downtown at one of the first places we spotted with parking. Parking is at a premium, and everywhere you go you will have to pay. How much depends on how prime the parking is. I put the last of my Canadian money into the parking meter. I stopped at an ATM machine before taking off for the Gem Museum, and that stop should have told me this day was just doomed for me. It refused my card. Talk about angst.
Just Singing in the Rain on Flickr
We had about 10 blocks to walk to get to the Gem Museum and then to visit the library that appeared in Battlestar Galactica. I handed my umbrella to the guys to share amongst themselves. I won't melt after all. Now it's at this time I should have double-checked the address I wrote down, but I trusted my memory. I trekked them all the way downtown only to find I had remembered the address wrong. Had it been a sunny day, this might not have been so bad, but I felt like a complete dolt to drag them through the rain like that. The guys deserved a medal for being so patient with me on that one. The only saving grace was that the library was right about where I thought the Gem Museum was. Very unique architecture, huge arching offshoots of many-windowed walls, with not only a library inside but small shops and food areas to boot, and atop the roof… trees. We grabbed some pictures and briefly looked around. SW Comit, this time armed with an umbrella, thought it might be nice to do a rendition of Indian Jones' dad in the third movie by chasing the pigeons with it. I walked the other way and pretended I didn't know these Americans.
We're Not the Only Ones in the Rain on Flickr
On the walk back, we stopped at a food store to pick up some munchies to take on our trip to Seattle this afternoon. I was having the worst time deciding what to get. The bumps in my morning were difficult to shake. I breathed in slowly and was determined to get out of this glum mood. The day could still look up.
The address for the Gem Museum was actually near where I parked the car, so when we got back I began looking. To my astonishment the building with the strange Atlantis artwork on the wall from our first day was the very building the Gem Museum was supposed to be in. After searching high and low I finally braved asking the security guard inside. All of the Canadians I had met thus far had been rather pleasant and most times helpful. I finally met a cranky person. Not only cranky, but unhelpful. He maintained there was no such place, and he turned out to be right, but what he had not been right on was that there had never been such a place. I learned later that it had closed about a year earlier, even though you could still find listings for it on the internet. Defeated at last, I figured it might be good to make our way to Seattle before the sky could fall on me.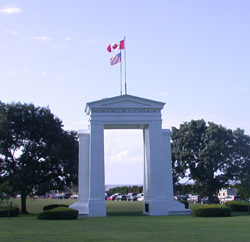 Is it ironic that the further we drove from Vancouver the sunnier it got, until by the time we hit the border, the sun was shining full force, almost to the point of drying my shoes out. Vancouver wept over our departure? Never know. I really did like it there. And while we sat in our car at the border (how did it take us 10 minutes to get into Canada and it's taking us an hour to get back into America?!), we got to reminisce about our trip and decide who had some of the coolest Canadian money to take home and who could imitate the Canadian dialect the best.
SW Comit was going to be the first one to catch a flight home, but the plan was to go back a bit earlier to meet up with Chorus Line in Seattle. By the time we hit Seattle a few hours later, Chorus Line had had to cancel our meeting because an emergency came up at her job, so we all decided to head to the airport.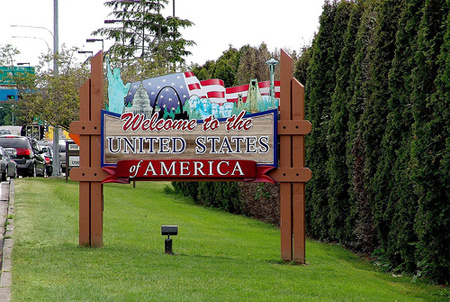 Dropped the rental car off, and headed into the airport. SW Comit left for his flight shortly after we got there. The others went to check their luggage. My flight wasn't supposed to be leaving until 11:30 that night so I had to wait awhile before I could check-in and join the others on the other side. I soon learned my flight had been delayed until 1:30AM for unknown reasons. I was going to be spending about 8 hours at the airport, 6 of those alone. Good thing I know how to amuse myself.
For the few hours before Ferr and SW Chris left, we sat about on the floor of the airport trying to see if we could name people from past Reunions, relating various topics from our own perspectives, and tossed about ideas and history for AW. The silly terms we had picked up from Giggledam kept popping into the conversation, making us laugh. It made me wish that others had been able to make the reunion. They would have enjoyed Vancouver.
I sat at the large windows, waving goodbye as the plane carrying Ferruccio and SW Chris slowly pulled away down the runway. I grabbed a National Geographic featuring "Yellowstone: Supervolcano" and a book of puzzles. Between my reading and mind-bending, a class of excited students returning from some expedition amused me with their laughter and conversations and a few skateboarding up and down the hallways.
Around 11:30PM a young mother had her hands full when her toddler went into hypercry mode. I had never seen such tenderness and patience in a mother before. The child was overtired I'm sure and trapped in an airport (she was on the same delayed flight as me) and it must have screamed for at least 45 minutes. The mother cooed softly and walked up and down the hallways ceaselessly to try to calm the child. Never once did I see frustration break out in her voice or face. I had a lot of admiration for that woman. I had to wonder if I could have faced that with such quiet strength at that time of night in a crowded airport. And there, at the end of my day, I decided I had not had such a bad day after all.
Returning is always bittersweet. I wish I could have spent more time in Canada. I did love it and I want to return. With each trip I take, my world seems that much bigger. I say bigger, because I realize how much variety there is in the world for me to explore.



---