Lensman is an active Peacekeeper and creator of the Teleport Maze and AWSource (with lots of help). He won a Lifetime Achievement Award at the 2006 CY Awards.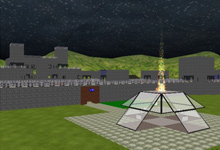 Station 415 is at a castle built by Comte de Paris in May of 1997. I am going to guess this is way before AW Europe opened and all the Europeans left us to go there. This is an extensive build. Simple but lots of it. Oh go on, visit and relive the nineties. This guy probably pushed a road object for days to get away from everyone else.
Location: AW 10980N 78W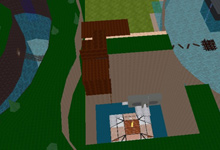 Station 308 is a multi-builder project from 2000-2001 and mostly involves water. There is an awful lot of water. The station is at the bottom of a dry well so you can fly up or take the stairs (lots of them too). Have fun and wear your galoshes!

Location: AW 3795N 27698E
Announcement: The teleport Maze now has 500 stations and is complete. We will not be adding new stations however if you absolutely must have a station, one can be moved. The maze teleport links are undergoing an extensive reprogramming which means that all past solutions to the maze are void.
Vote for the Teleport Maze for a CY!
It took 9 years to build and over 2800 teleport scripts taking people to places they never knew existed! It's been nominated every year and never won.
More about the Cy Awards in the AWNewsletter
---