THE GAME WORLD @ ACTIVE WORLDS
Courtesy of The Game Master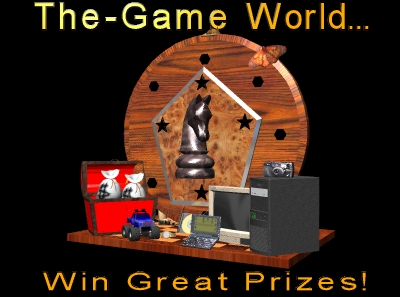 Hello Active Worlds citizens and visitors. My name is DJ, a member of The Game Master's guild (#860), a group of volunteers who watch over and maintain the-game world here in AW (cit name The Game Master), and else ware on the net. Today I would like to take a moment to tell you a little about "the-game" world here in AW, and what it has to offer.
In the-game world we have trivia games, live bingo rounds, raffles, random prize giveaways, scavenger hunts and other cool games.
But for those of you who crave something different, well, The Game has another side which very few have ever experienced...and even fewer have ever survived. It encompass the dark and often hazardous worlds of two men: John H. Mummy, owner of the desert property on which the-game world sits... and Douglas L. Learner, Mummy's former employer and a man with unscrupulous and often deadly business practices.
There are many intriguing plots and interesting twists to their complex storyline; involving the events and circumstances surrounding their lives and the lives of those whom they touch. Players must interact with, unveil, and investigate the many secrets hidden both within the-game world itself and the minds of these two gentlemen. As players delve deeper into the behind the sense mysteries and events surrounding The Game, they will pick up game points and win prizes along the way. The deeper they dig, the more information they will uncover, and the more points and prizes they may win. But be warned! This is not a quest to be undertaken by the fearful, impatient, or weak minded. It is, without a doubt, a mystery wrapped in a riddle inside an enigma! I cannot give out any hints or clues as to where to start in this entertaining undertaking. All I can say is that you must go to the-game world and see what cannot be seen. Uncover what has not been uncovered.
To play in the-game world you must register, but registration and game play is free. Those of you who visited the-game world and have read the General Rules, may have noticed that we only allow US residents to play. The reason has to do with the shipping costs incurred when sending prize winnings outside the US. Even if we were to say that non US residents could "play" but not win prizes, we feel this would be unfair to them and other players, as several players are usually playing the same game at the same time.
So what can you win? You may win either game points to be used in our points store (located in the-game world), cash, or a variety of cool prizes! As we receive a higher volume of visitor traffic and players playing in AW, we will offer even bigger prizes such as electronics, gaming consoles and more! What we can offer depends greatly upon the number of players we have actively playing games. Prizes are paid for by advertisers. We have many advertisers who are interested in joining us, but they wish to see more "bodies" in the-game world before they do so. The Comic & Novelty Emporium has recently struck a deal with us which will incorporate comic memorabilia into our prize family. Be on the look out for them.
Remember, you don't even have to play any of our games to win prizes. Our raffles and random prize giveaways only require that you be a registered game player and that you physically be in the-game world and/or listen to GAME radio (best w/high speed connection).
Live Bingo is played every Friday at 7:00pm EST US (10pm VRT).
Well that's it for now. If you should have any questions please contact us: http://www.yourresponse.at/contactthegame (no ".com" is needed).