Get to Know Your Neighbors!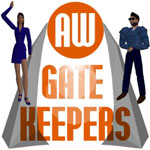 We think it would be great if everyone got a chance to get to know some of the volunteers in the community, and to find out why they love AW so much.
This month we meet Bella who was recently recognized as GK of the Month.
Courtesy of Bella
A friend told me about AW & said AW rocks. He told me to download it. When I did, I started exploring AW and I was amazed at the different worlds' creations & the different channels people have for creating beautiful work. When I started to build in different worlds and with different objects, I wanted to learn more about it.
I have been a citizen of AW for 7 years. I enjoy meeting people & getting ideas from people. I meet people from all over the world with different time zones. That still amazes me the Net can make the world a smaller place.
It took me a long time to become a Gatekeeper. I always wanted to help people really come to look at it. Also, it helped me to get out of my shyness. If it wasn't for SweetSuzie never giving up on me, I wouldn't be here today. To me, rules are rules where we go in life. We've got to have rules such as the Gateway or it's chaos. I enjoy every minute of it.
Thank you, AW.